Highlights
Here we provide selected highlights from the Aalto Online Learning – A!OLE project.
---

Game Changers -a Course on Sustainablity
Goals of the pilot
Game Changers will be a new mindset course on sustainablity for all Aalto bachelor level students. The course uses flipped classroom/mooc type approach, with online lectures and various interactive tools for learning.
For the students, the goals of the course are threefold:
1)   to provide the students with basics of sustainability,
2)   to provide them with Game Changers mindset and skills, to enable them to act as change agents, and
3)   to build an Aalto wide network on sustainability actors.
As a hopefully very appreciated side effect, the students also learn multiple skills in online learning and communicating; especially they develop skills as vloggers.
Special online learning focus of the project and innovativeness
From the A!OLE development point of view, the special online learning method that the project will develop is vlogging; a blog or learning diary in a form of a video.
These can be used for
lectures – communicating from teachers to students
delivering the course tasks – communicating from students to teachers
two-way communication – between the students and teachers
working, commenting and communication within group works (using AchSO! and similar tools)
We will also make use of self-evaluation tools and online exams for groups in learning the sustainability concepts.
Contact information:
Project group
Advisory team
Annukka Jyrämä annukka.jyrama@aalto.fi, Johanna Söderholm johanna.soderholm@aalto.fi, Milla Ovaska  milla.ovaska@ayy.fi, Rosa Väisänen  rosa.vaisanen@aalto.fi, Meeri Karvinen meeri.karvinen@aalto.fi, Riina Subra riina.subra@aalto.fi
---

E! Speak It
Goals of the pilot:
Creating a fully online course that prepares students to present their ideas in online environments
Through e Presentation, students will learn best practices for online presenting.
Contact information:
---
Goals of the pilot
Provide basic surface modeling course for designers, in the form of a course utilizing approximately 50% less of contact teaching than in current course (currently approx 35 hrs/student + 35 hrs individual learning). The material should provide students and faculty a less teaching-resource-intensive and more individual way (than the current) to acquire skills and credits in Rhino 3D.
Contact information:
Severi Uusitalo, Lecturer, Digital Design; Department of Design, Aalto Arts

Responsible teacher, planning, tutorials

N.N, Teaching assistant (Student, to be named)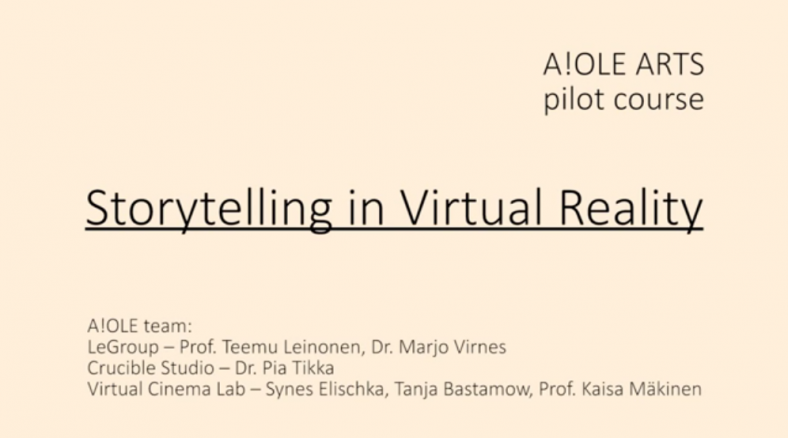 Fishbowl Online at ARTS
Goals of the pilot:
Transferring Fishbowl conversation in classroom environment to Fishbowl conversation in online environment
Testing and analysing Fishbowl conversation in classroom vs. Fishbowl in online environment with behavioural and psychophysiological tools
Implementing Fishbowl conversation online with other A!OLE pilot projects
Targets also multidisciplinary student groups  (for example, Neurocinematic course for SCI students and media students)
Emphasises peer learning amongst students and across different disciplines
Contact information:
---
---
Goals of the pilot:
Enhance the approach of Esa Saarinen's life-philosophical lectures through digital platforms.
To provide a setting for the participant's subjective reflection and deliberation, through Prof. Saarinen's teaching, which is typically non-instructional and highly suggestive and personalized.
The new digital aspects of the course Magnificent Life seek to help the participant in her strive to live a better life thought a better use of her thinking, understood here as a holistic, experiential mental faculty only part of which is conscious, rational and verbal.
Contact information:
Pilot leader: Prof. Esa Saarinen (esa.saarinen@aalto.fi), Dept. of Industrial Engineering and Management, Aalto University School of Science
Team members: Jaakko Korhonen, Susanna Immonen, Laura Wirtavuori
---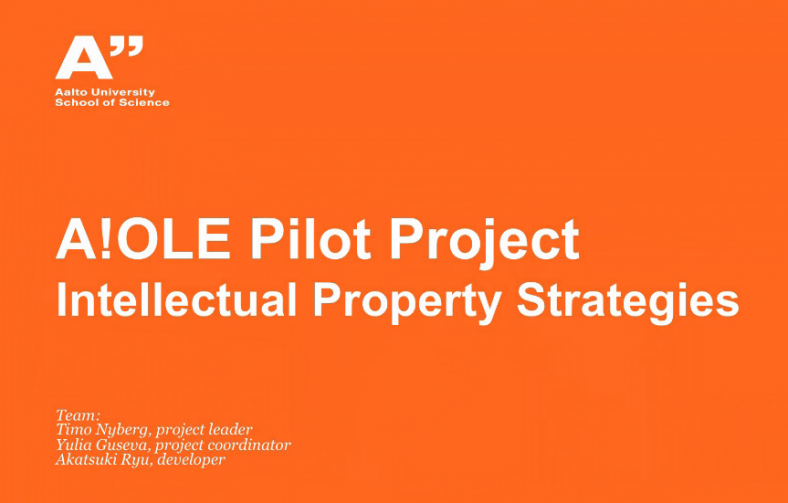 Intellectual Property Strategies
Goals of the pilot :
We are offering an online course with creative approach to assignments to make the process of learning engaging and efficient:
1. Further develop online content on IP Strategy
2. Create assignments with gamification elements
3. Create video assignments
We are also willing to share our experience in e-learning with other partners.
Contact information:
Timo Nyberg (timo.nyberg@aalto.fi)
Yulia Guseva (yulia.guseva@aalto.fi)
Akatsuki Ryu (akatsuki_ryu@hotmail.co.jp)
---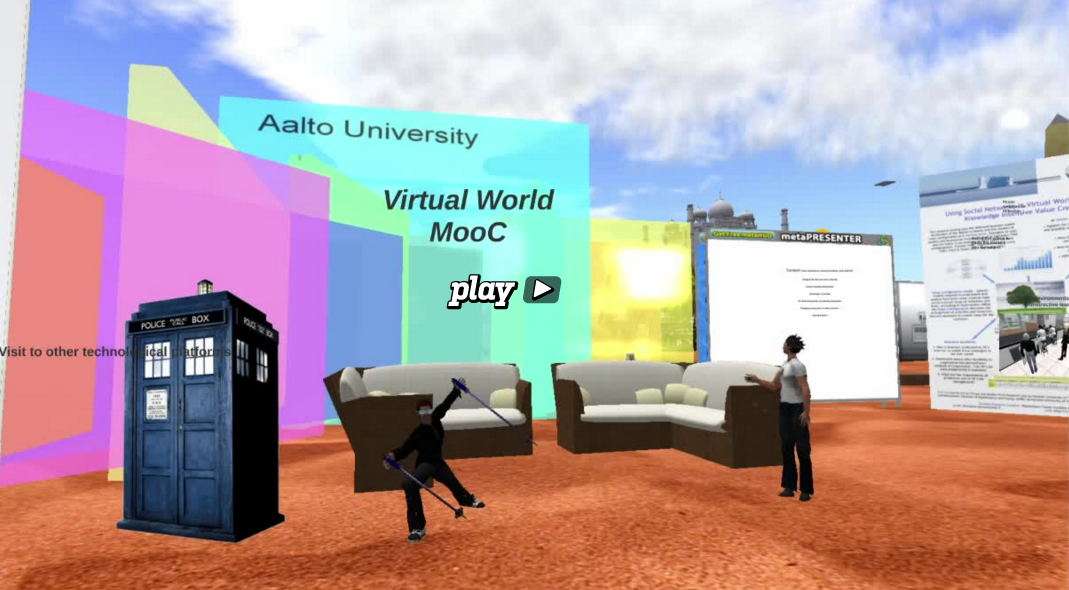 Virtual World MooC
Goals of the pilot is to design and test an open course on technology supported learning in suitable 3D virtual world learning environment.
 Contact information:
---
Tränä Svenska
In Swedish we offer a course, LC-5411, meant for those students who didn't perform very well in the level test.
These Students need additional exercises and a lot of repetition. It is crucial to practise structures and it is in line with the "learning a language is building a house – the foundation needs to be stable in order to sustain the building" –concept. The structure exercises on the MyCourses platform are meant to be completed alongside the course, preferably in the beginning of it. This way the exercises are as beneficial as possible. The purpose is that independently practising structures during the course also supports the work of the teacher as he/she thus is able to teach even more diversely.
Since the structure exercises are carried out during the course, students have the possibility to receive assistance from the teacher. Various structures are also rehearsed, which helps students with the exercises. The teacher can for his/her part follow the students' working, assist with tricky structures and keep track of the progress in general. This allows the teacher to continuously be up to date and adjust the teaching according to the students' level.
The exercises are designed to be simple and unambiguous so that students are able to focus on the essentials. The purpose of the exercises is to practice basic structures. Students will thus be more confident as they proceed in their language studies and finally reach the level required at university. Once students master the structures, they will feel more at ease and have an easier time speaking, reading, understanding and writing Swedish. During the lessons vocabulary will be rehearsed but only when students have a proper command of the structures, they can begin formulating grammatically correct and understandable sentences.
I will continuously collect feedback from students. Based on this feedback structure exercises may be revised in order for them to serve the students' needs as well as possible. If students find this independent form of practise useful, we can expand this format into a complete independent course. The course could comprise of a grammar part (slides and speech), reading comprehension, listening exercises and other various assignments.
I am member in a NORDPLUS-project where the collaborating parties are Aalto-University, KTH (Stockholm) and Islands University (Reykjavik). This A!OLE pilot is also a part of this collaboration and we are planning to expand so that students and teachers in all these three countries and even more worldwide can benefit from the collaboration. Through this pilot/collaboration students can also network.  One of our main interests is blended learning and we have already had one international webinar. Please feel free to visit our digital room http://www.blendingswedish.se/
Contact Information:
Isabella Fröjdman (isabella.frojdman@aalto.fi)
---

Introductory Finnish
Introductory Finnish is a Finnish language Massive Open Online Course (MOOC). The course aims to teach Finnish from no prior background to a lower beginner level and functions as an orientation phase for newcomers to enable easier adaptation to Finland. In this four-week course, students will learn to understand, speak, and write basic Finnish.
The main target groups are people who are planning to come to study or work in Finland and Aalto University. Approximately 750 international people (exchange, master, and doctoral students as well as faculty members) come to Aalto every year; of these, 350 start beginning level Finnish courses.
The course will be put into practice in fall 2016, and it is the first language MOOC offered by the Aalto Language Centre.
Contact information:
---

The aim of the project is to create a platform with smart solutions that will motivate the students to learn Swedish in a digital environment and outside the classroom. We want to give the students tools to work independently, to improve their language skills in their own field and to learn working life skills.
Description of the pilot
We have created a bilingual website Swedish/Finnish, which functions as a platform for studying Swedish at different courses at Aalto or independently. The platform is open for all internet users, but some special tools and sites are behind Aalto passwords.
The platform  has three stages:
1 INPUT, where the students can find material and inspiration for studying Swedish both digitally and in the surrounding environment.
2 PROCESS, with instructions to process the information found in stage 1 and with tools to study grammar, pronounciation etc.
3 OUTPUT with instructions on how to present the processed information in writing or orally either in the classroom or in a video etc.
We want to encourage the students to communicate with each other within and outside Aalto University. At the same time the platform serves the Swedish teachers with tools to expand their teaching methods with a modern digital approach. The focus is on working in a project, communication skills, business and leadership.
Contact information:
---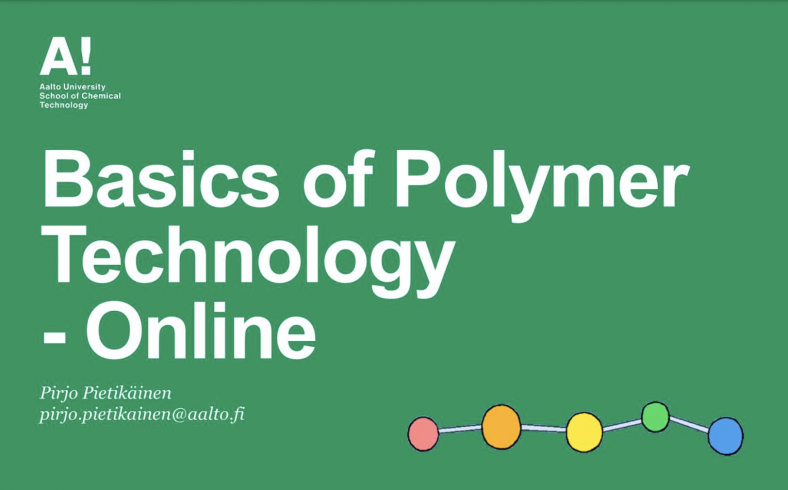 Basics of polymer technology- online
The goal of the pilot is to develop a material that provides a possibility to learn the very basics of polymer technology. The material can be used to learn or revice the basic concept of the field as self-study or as either part of any course of materials science and technology or as a core material to become an independent course.
Polymer technology is taught in Aalto at CHEM, ENG, SCI and ARTS. The needs and requirements of all schools are studied and the material will be developed to fulfill the general needs.
The material provided begins with introduction of macromolecules i.e. polymerization reactions and the variety structures formed. The most important polymeric material and properties thereof are introduced as well as the most important processing technologies to form the final products for customers.
The material in web consists of short lectures, video demonstrations, polymer dictionary and quizzes for students to check out their knowledge. The material will be complemented with possibilities of group discussions, peer-evaluation, chat channels etc. when it is used as an independent basic course.
Contact information:
Pirjo Pietikäinen (pirjo at pietikainen . aalto.fi)
---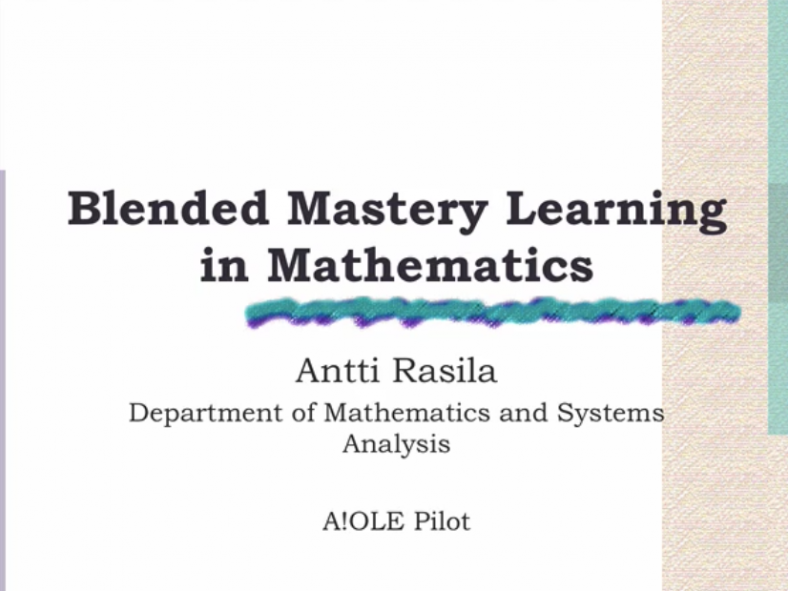 Blended Mastery Learning in Mathematics
The goal of the project is to test an arrangement where the exercise assignments are split according to the scheme where "problem solving" is separated from procedural and conceptual skills (which are collectively called "mastery skills"). The aim here is to obtain benefits of the Mastery Learning paradigm introduced by Bloom [1] through use of STACK e-assessment [2,3] system while simultaneously allowing more meaningful use of contact teaching and (hopefully) better transfer of learned skills into real-world situations.
References
Bloom, B. (1984). The 2 Sigma Problem: The Search for Methods of Group Instruction as Effective as One-to-One Tutoring, Educational Researcher, 13:6, 4-16.

Rasila, A., Malinen, J., Tiitu, H. (2015). On automatic assessment and conceptual understanding, Teaching Mathematics Applications (2015) 34 (3): 149-159.
Sangwin, C.J. (2013). Computer Aided Assessment of Mathematics, Oxford University Press, Oxford.
Contact information:
---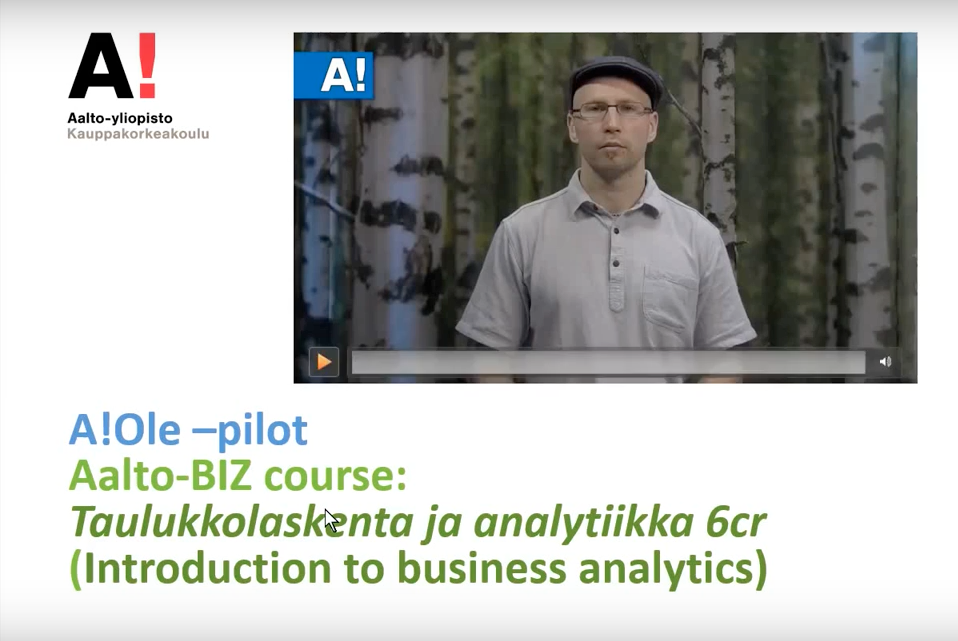 Business Analytics Pilot
Goals of the pilot:
To develop a complete set of self learning and self assesment material to learn the contents of the course. The material can be used either as the only source of learning or to complete the face to face teaching. The material consists of written (+spoken) theory material, a large set of automatically graded excercises with solutions and also a large set of tutorial videos, and videod solutions to exercises. Include conditional activities in the automatically graded exercise set to create personalized learning paths.
Contact information:
Panu Erästö (panu.erasto@aalto.fi)
---

Pilot on Programming Courses
Goals of the pilot:
Common goals: Currently different Aalto programming courses apply partially different learning and teaching methods, and use different tools, e.g. for automatic online checking of the exercises (or no automatic checking at all). During the pilot the tools will be harmonised, for example to use common user interface for students and teachers. However, different courses still have their specific needs, especially on the automatic checking technology.
C course goals: The C (and C++) programming courses already have material in the network and use automatic checking, but the network material is fairly static and text based. Also for student evaluation the course still uses paper exams (yuck!). The undersigned still believes that controlled individual assessment is needed to 1) motivate (strategically oriented) students to actually learn the topics themselves; 2) verify the students' individual learning. It would be easy to submit automatically checked exercises on behalf of someone else (and this is known to occasionally happen). The top goals are therefore

Improve visualisation and functionality of the course material to better support learning
Improve performance of the online checking system (currently less than good)
Integrate the checking system with other Aalto systems (other programming courses, MyCourses, grading tools, perhaps eventually even Oodi)
(If possible) Develop online assessment/exam system to replace paper exams. This is not only about technology, but requires space arrangements for some sort of "exam aquarium" where exercises can be done in controlled environment.

Data Structures and Algorithms (DSA) course goals: The course already has an eBook in English and exercises that do automatic checking. We are planning to publish the course handouts (pruju) as open courseware and include many interactive components in there just like in this eBook. This new material will be used in the course next fall in flipped class manner. The top goals are therefore

Improve visualisation and functionality of the course material to better support learning
Improve performance of the online learning environment (e.g. unit tests for Eclipse, submission system, etc.)
Integrate the eBook into the Finnish material (pruju) in order to avoid translating the whole book in Finnish
Video presentations:
Contact information:
Ari Korhonen (ari.korhonen@aalto.fi)
Pasi Sarolahti (pasi.sarolahti@aalto.fi)
---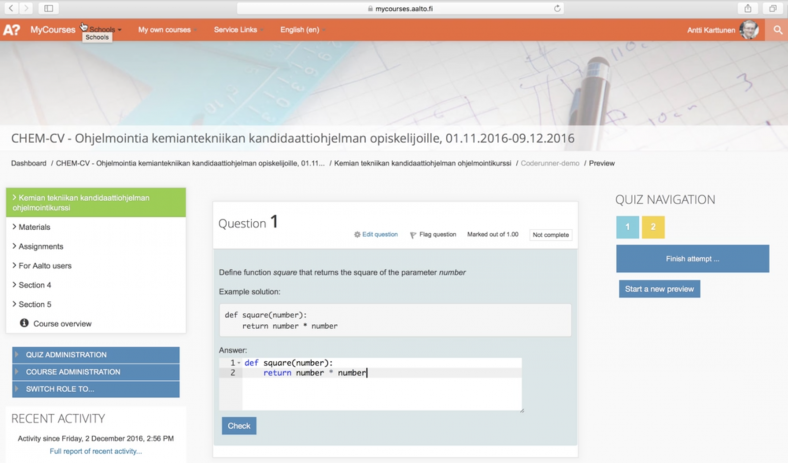 Joint pilot on programming
This is a joint pilot for programming courses to develop new interactive automatically assessed exercises and assignments as well as tools for various needs in programming related courses. We aim at agile learning material production, flexible maintenance and updates, collecting learning analytics data, monitoring study paths, etc. This is an ongoing process that also try to disseminate best practices to all computer science and programming courses. In addition, we develop the current infrastructure in order to consolidate the aforementioned processes, removing overlaps, enhancing feedback and usability for students, producing new visualizations and animations, and creating new automatically assessed exercises for Python, Scala, Matlab, SQL, etc., but avoiding platform and vendor lock ups (the same course materials can be utilized in different platforms).
Contact information:
Ari Korhonen (ari dot korhonen at aalto.fi)
Tomi Janhunen (tomi dot janhunen at aalto.fi)
Antti Karttunen (antti dot karttunen at aalto.fi)
Otto Seppälä (otto dot seppala at aalto.fi)
Juha Sorva (juha dot sorva at aalto.fi)
---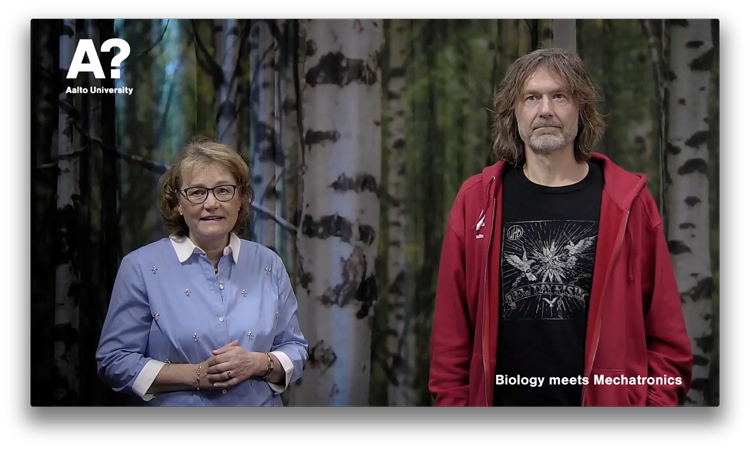 Biology meets Mechatronics
At the core of this pilot is the development and use of blended learning, where online learning is ingrained into hands-on learning in multidisciplinary projects and experimentation in the laboratory. The pilot will be built by utilizing two courses in the curriculum; CHEM-E3225 Cell and Tissue Engineering and KON-C3003 Mechatronics exercises. During 2017-2018 elements from the Aalto schools ELEC, SCI, ARTS and BIZ can be added.
The goals are to
Enable students to be co-creators of their own learning, developing dicisplinary and multidiciplinary knowledge and skills,
Find/develop and test tools that support

teaming up and project management in multidiciplinary environment
team instruction
continuous assessment of skills (including self and peer assessment)
reflective learning
online multiform documentation

Create a library of biology – mechatronics projects work to enable teachers to use these as materials in ongoing and new courses
Implement pioneering education according to Aalto strategy and development of teaching within the Aalto Health and Wellbeing platform
 Contact information:
---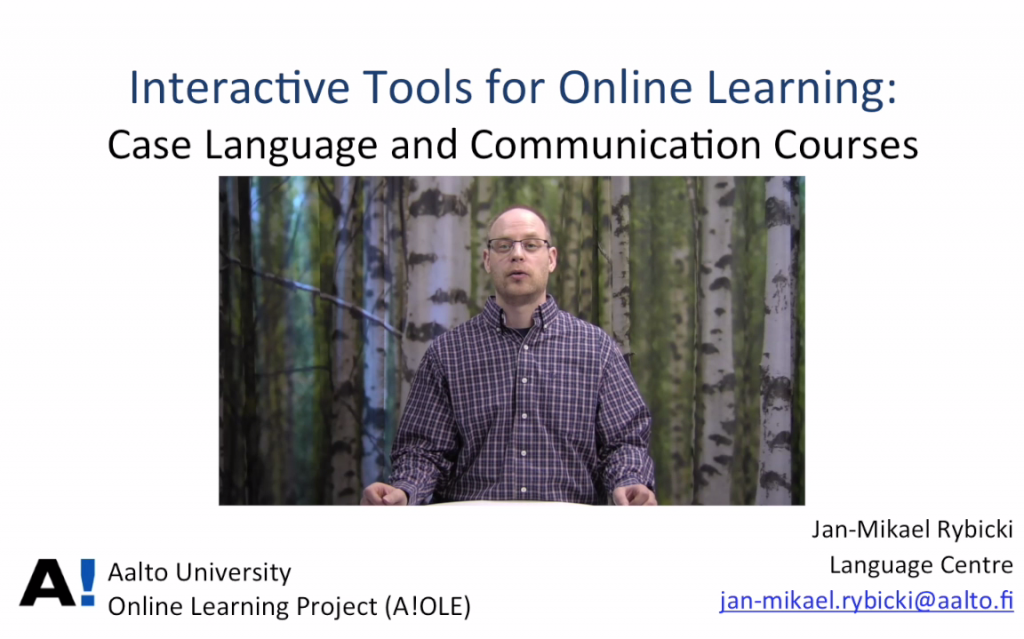 Interactive Tools for Online Learning: Case Language and Communication Courses
Current situation: Aalto University students (at all levels) need more flexible learning opportunities to practice and improve their academic writing skills. However, the current selection of tools in MyCourses allow a very limited choice of interactive exercises (mainly multiple choice and gapfill), which do not support higher level of learning. The current technologies often prevent the creation of intuitive and pedagogically meaningful exercises and lesson designs, and updating the exercises is slow and error prone.
Goals: To address some of the problems listed above, this project aims to develop new activity types and/or modify the existing solutions in order to improve lesson designs, user-interaction, visualizations, and automate feedback when possible. Such activity types include point-and-click, drag-and-drop, and a text field with pattern matching to enhance automated feedback.
Contact information:
---