With Orientation Week bringing in hundreds of new students and staff to Aalto University's Otaniemi Campus, new visitors can sometimes find the campus a bit challenging to orient themselves. This problem was the inspiration for the new augmented reality "Otaniemi Campus Tour" which is now available through the ARIS (Augmented Reality for Interactive Storytelling) app.
With support from A!OLE program, the ARIS development team (Mira Myllylä, Virve Ranta, and Markus Vainio) have developed an Augmented Reality tour of the Otaniemi campus. The game is free and easy to use. And it can be played in two modes.
For those with a gaming mindset, there is the humorous "Ghost Hunt" game which tasks you with helping a number of student ghosts graduate. Just move to their location and start interacting. Each ghost will unlock different locations on the map.
For those wanting to explore the campus on their own, there is the "Campus Tour" mode, which offers users an interactive map showing the important places on campus.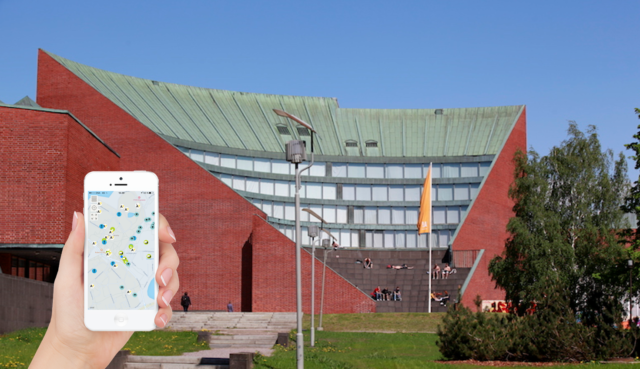 The Otaniemi Campus Tour was developed on the ARIS open source editing tool from the University of Wisconsin-Madison. The mobile app works on any iOS device (iPhone or iPad) with internet access. The ARIS app can be downloaded for free in the Apple App Store. A limited Android version of the app is in beta version and available for download.
Otaniemi Campus Tour and other ARIS games have been developed in consultation with the Aaltonaut Bachelor minor program, the Aalto University Language Centre, ACRE, and AYY. There are plans to release versions of the campus tour in Finnish and Swedish in the near future.
If you want to know more about ARIS, the Otaniemi Campus Tour or other ARIS projects, please contact ARIS project leader Maurice Forget (maurice.forget [at] aalto.fi).