We are very happy to announce that PLAYAR – "Think Playfully through 3D learning" by Jui-Fan Yang, Lin Liu and Kawachi Masafumi  won our challenge "The future of learning  – think like a human" for DigiEduHack 2019.
 
What is the PLAYAR team saying about their solution?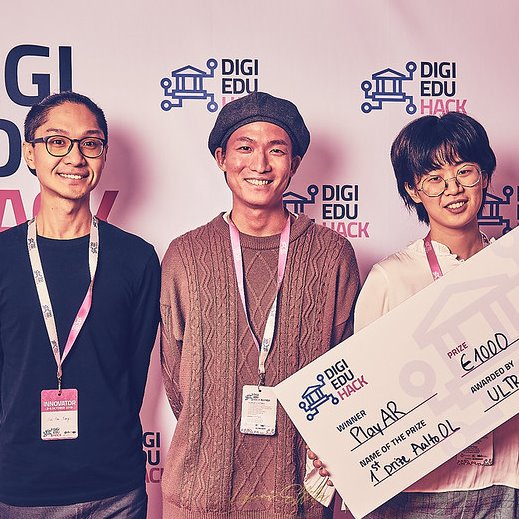 What is the best thing about your solution?
"Our aim is to raise the learning desire and the motivation of youngsters. Youngsters can have a better learning results through PLAYAR, a joyful and playful learning tool instead of the traditional way of learning. "
Why is your solution needed?
"The current teaching is still a transmission model with text, which is not playful and attractive enough for the youngsters. Consequently, they lose learning motivation and teachers lose students' attention. 3D learning can offer a playful and immersive experience allowing students to interact with phenomena more directly. This playfulness is our fundamental nature as human differentiating from robots. Therefore, our solution encourages more effective learning as well as a playful way of thinking to deal with this complex society in the long-run."
Who will it serve and how?
"Our primary end-user is youngsters from ages 13 to 18. They can have a better understanding of the abstract subjects through AR 3D learning. A secondary user is a school teacher, especially who teaches science or biology as theses are the best subjects which fit our solution.  As we basically aim at distributing services to public schools in Finland, a good first step might be in collaboration with the educational sector in the city of Helsinki or Espoo to look for the partner school for the pilot experimentation."
See more about PLAYAR and vote your favourite to be the winner of DigiEduHack 2019!