Education@Aalto is arranged as a part of the Aalto Festival. Welcome with passion for learning, mingling and workshops to Education@Aalto on May 30 at the Learning Centre.
When: May 30th, 2017, from 9:00 to 17:30.
Where: Harald Herlin Learning Centre, Otaniementie 9
Sign up by May 26 : https://www.webropolsurveys.com/S/127F96E26D94E274.par
Co-chairs: Docent Dr. Tomi Kauppinen and Maija Lampinen
Education@Aalto is a full day, open event as a part of the Aalto Festival. We welcome teachers, researchers, developers and learners to share and collaborate in workshops, demo sessions and round-up discussions with passion.
Schedule
9:15 Kick-start of the Education@Aalto with VP Eero Eloranta: Educating Game Changers
9:30 What's in it for me? Pitches from 10 workshops
9:45 Coffee & Networking
10:15 Workshops with passion
12:00 Sushi party
13:00 Demos of tooling and educational development projects (in Makerspace and in Johanna room) and Teacher's corner: teaching experiments – teach somebody anything with passion in 10 minutes (Makerspace corner downstairs).
14:30 Networking, energy & tunes
15:00 Game Changers – New Frontiers in Learning (panel, organised at Tori).
– Facilitated by Teemu Leinonen and Marjo Virnes
– Panelists: Tarmo Toikkanen (Lifelearn), Maurice Forget (Aalto Language Center), Aleksi Taipale (Aalto, Information Networks Student)
16:30 Happy Hour
Education Jam with Cocktails/mingle/meet/discuss/network: joint event with Aalto Mentor Program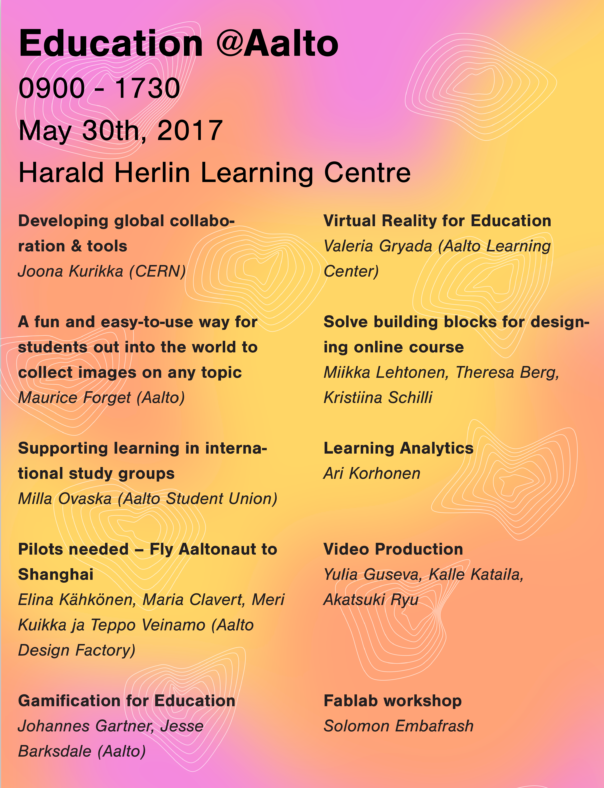 Sign up today but by May 26th the latest!
How is digitalization transforming education? How to utilize the e-learning methods and tooling to support teaching and learning? How to employ augmented reality to improve learning? What is essential when creating educational videos and serious games? Which methods and tools are found to work for global collaboration? How to support international learning? What is essential when creating international, joint courses? What examples there are about virtual reality for education? What are building blocks for online courses?
Brief descriptions about 10 workshops:
WS1 topic: Developing global collaboration & tools (room: Vilho)
Facilitator: Joona Kurikka (CERN)
The workshop will consist of two parts
1) an introduction to IdeaSquare@CERN as an innovation experiment supporting fundamental research of particle physics. We also discuss CERN's new master-level course Challenge Based Innovation, and future ideas for a globally relevant online collaboration platform
2) let us have breakout groups to discuss three important questions:
How could CERN collaborate more with Aalto – do you have a suitable course / project in mind?
Developing online collaboration – what are the best tools and methods you have used, and what is missing from them?
Open topics – idea(s) from the audience
WS2: A fun and easy-to-use way for students out into the world to collect images on any topic (room: Aslak)
Facilitator: Maurice Forget (Aalto)
SIFTR: Get students collecting and categorizing visual examples on location around campus, around Finland or around the world. SIFTR is a fun and easy-to-use program that lets you send students out into the world to collect images on any topic. Then, students can simultaneously add them to different categories which are automatically pinned to a personal Google Map. You can restrict access or open it to the world. For the teacher, you get a map showing the locations of every example around campus, Finland, or the world – each sorted by colour. You choose the topic and categories, and students can compete to see who gathers the most.
WS3: Supporting learning in international study groups (room: Ilmari)
Facilitator: Milla Ovaska (Aalto Student Union) and Mari Dagnall (Aalto)
Global competences for all Aalto students – how to support international learning?Aalto is a community of more than 100 nationalities. How is this seen in teaching? What do international students go through when faced with a new way of learning? How to make intercultural group works into beneficial learning experiences? Aalto educates global game changers ready to tackle big problems, which are rarely national or local in nature. How do the degrees prepare students to understand the global and cultural contexts of their field? What kind of opportunities does digitization offer for embedding international learning into substance courses? How could you as a teacher internationalize your course? This workshop delivers the latest surveys on student experiences in an international classroom and introduces trends in internationalization.
WS4: Pilots needed – Fly Aaltonaut to Shanghai (room: 24/7)
Facilitators: Elina Kähkönen, Maria Clavert, Meri Kuikka ja Teppo Veinamo (Aalto Design Factory)
Interdisciplinary Bachelor's level minor program Aaltonaut is facing a challenge: we need to develop new forms of online teaching that are interdisciplinary, international, PBL, and based on remote teamwork. The new solutions will be implemented in a sustainable product development course in collaboration with Tongji University in Shanghai, China. To prepare for the first course implementation in Fall 2017, we invite all Aalto teachers, researchers, and students to share their expertise with us. Can you fly us to Shanghai?
WS5: Gamification for Education (room: makerspace downstairs)
Facilitator: Johannes Gartner, Jesse Barksdale (Aalto)
Gamification describes the usage of game elements and game mechanics in a non-game environment. It can be understood as an well designed incentive system build on our human playfulness. This workshop will give you an overview of gamified applications and an introduction of how to use it as an motivational system in education.
It will also discuss the educational game "How To Destroy A Startup," which makes learning intellectual property law just a little bit less boring."
WS6: Virtual Reality for Education (room: makerspace downstairs)
Facilitator: Valeria Gryada (Aalto Learning Center)
How to use VR in studies? In this workshop VR Hub introduces the basics of virtual reality. We'll dive into few of the main HTC Vive utility applications that can be used in learning and designing. VR Hub in Learning Center guides students and teachers to the world of virtual reality as a tool for learning. VR Hub organizes introduction events about applications that help visualizing ideas, prototyping solutions and sharing concepts with others. VR Hub is also actively searching for emerging techniques and study practices designed for VR.
WS7: Solve building blocks for designing online course (room: Johanna)
Facilitators: Miikka Lehtonen, Theresa Berg, Kristiina Schilli
What are the elements that you should consider when designing an online course? We present a set of analog cards designed to help with planning, brainstorming, development and evaluation online courses. During the workshop, you will get to prototype an online course, map out the elements of that course and discover the potential gaps of the course design.
WS8: Learning Analytics (room: Juho)
Facilitator: Ari Korhonen
Workshop will be held in Finnish.
Oppimisanalytiikka – mistä oikein on kyse? Oppimisanalytiikalla (learning analytics) tarkoitetaan oppimiseen liittyvän tiedon keräämistä, käsittelyä ja hyödyntämistä. Education@Aalto-tapahtuman yhteydessä kokoontuva oppimisanalytiikan jaosto toimii opetus- ja kulttuuriministeriön tutkimuksen ja koulutuksen toimialan valtakunnallisena oppimisanalytiikan yhteistyöryhmänä. Yhteisen oppimsianalytiikan tilannekuvan lisäksi kokouksessa pureudutaan oppijan suostumuksen hallintaan, jota ohjaavat yksityisyydensuojan ja henkilötietojen käsittelyn periaatteet. Aihetta lähestytään alaikäisen suostumuksenhallintaa ratkovan case-esimerkin kautta. Luvassa on myös avointa keskustelua muista oppimisanalytiikan teemoista. Ks. myös Oppimisanalytiikan jaosto
WS9: Video Production (room: makerspace downstairs)
Facilitators:Yulia Guseva, Kalle Kataila, Akatsuki Ryu
In video productions workshop you will be introduced to different scales of educational video productions at Aalto. The workshop navigates through learning cafe styled production setups from DIY small scale laptop setup to broadcast level professional video capture. Workshop is aimed for all who are interested on how to build video enriched learning content and hands on demo sessions will introduce essential supporting tools and services available at Aalto. Workshop is also arena for discussion, feedback and future visions on what kind of video related services and tools we should develop at Aalto.
WS10: Knowledge sharing in the global Fablab community (room: Fablab downstairs)
Facilitator: Solomon Embafrash

Demonstration about the fab lab's potential for knowledge sharing and digital learning.
---

Education@Aalto is arranged as a part of the Aalto Festival. Welcome with passion for learning, mingling and workshops to Education@Aalto on May 30 at the Learning Centre.
When: May 30th, 2017, from 9:00 to 17:30.
Where: Harald Herlin Learning Centre, Otaniementie 9
Sign up today but by May 26th the latest!
For more information please contact A!OLE Project Leader Dr. Tomi Kauppinen at tomi.kauppinen@aalto.fi