Games Now! is an open lecture series on the dominant topics and emerging trends in games.  In Games Now! we dig deeper to what is current at the game scene – and what will happen in the near future. The topics and speaker invitations are curated in collaboration with Finland's game industry leaders and companies. Our guest speakers are industry leaders and inspiring individuals providing their insights and advise for students and practitioners.
The lecture series is run by Aalto University's Media Lab and is open for public.
The lecture series has been developed as part of the Aalto University's Aalto Online Learning  program.
Online Lecture: Fostering Playful Experiences with Wearables
Oğuz 'Oz' Buruk, Marie Curie Fellow (Gamification Group, Tampere University)
Mon 29th March
15-17 (EET, UTC+2)
@ https://www.twitch.tv/gamesnowaaltofi
Deployment of wearables for games has attracted the interest of designers and researchers both in academia and industry. However, few of these projects treat wearables as an integral part of the gameplay, often considering them as an extension of the central on-screen experience. While preliminary forays into wearable play show promise, we see a need for a rigorous design knowledge to illuminate the possibilities for the future of wearables for playful interaction design. In this lecture we will discuss on Design Framework for Playful Wearables stemming from the extensive research and hands-on experience. We will also illustrate how to utilize the framework in the design process.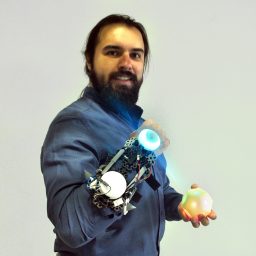 Oğuz 'Oz' Buruk is a product and game designer and completed his PhD in Interaction Design at Koç University, Turkey. His work focused on creating playful interactive environments. His projects include augmenting tabletop role-playing games with wearables through bodily interaction, and incorporating social touch for controlling games. He currently leads two research projects focusing on integrating wearables to mainstream gaming and extended reality environments.