Video Training Week reflections
Aalto Online Learning organized a third batch of the Video Training Week on January 20-23. The Video Training Week is designed to prepare new pilots to the process ahead of them, give them ideas and insights on what can be done and make sure they have necessary skills to produce videos that they will be happy with.
The Video Training week started with the Kickstart event, continued with two workshops on scriptwriting and Camtasia, an individual session on presentation skills and finally participants got a chance to make any video they wanted in the studio with a professional crew.
In the Kickstart event we provided new pilots with an overview of what Aalto Online Learning is all about, and what kind of activities we run throughout the year. On top of that, it was a good opportunity to get to know other pilots and exchange ideas in a relaxed atmosphere.
Here's some of the participants feedback of the week:
"Very well designed and planned."

"Very effective."

"We got inspired."
Why are we training for videos?
In my work producing educational videos in Aalto, I have noticed that a poor script or a lack of it is one of the most common problems that leads to very long or non-engaging videos. Been there, done that. That's why in the workshop on How to write a great video script we focused on why you actually need a script. We then moved on to how to write a script that will be spoken on camera and participants got tips on writing and formatting scripts for the teleprompter. It is important to learn from good and bad practices, that's why we analysed both good and bad script examples. And finally, participants discovered how a teleprompter works with a script.
There are different ways to make a video. You can have it done in a studio or on location with a professional crew, you can use Panopto for recording a video in the self-service studio or your own laptop, or you can use screen recording and editing software such as Camtasia. This is what the second workshop was dedicated to – How to make videos with Camtasia. In the workshop Marika Sarvilahti and Tove Ørsted – who are also a part of Aalto Online Learning – shared with participants their journey with Camtasia making tutorial videos about using digital cultural heritage collections online. They gave an overview and demo of the program, discussed what their video making process looked like, what tools they used, what was hard and what was easy.
Video presentation skills session with Paul Savage was designed to give participants personal pointers on how to improve and what might be useful to practice next. This training was organized for the first time in individual slots. Most of us have a fear of presenting, especially when you have many people in the audience. We decided to lower the threshold of joining this session and make it more comfortable for everyone by having a one-on-one session with Paul. That also enabled Paul to give more specific feedback.
I also decided not to miss the chance to improve my presentation skills. I have previously attended sessions with Paul but this time I got new insights and he drew my attention to things that had never even crossed my mind before.
Getting ready for the camera
After participating in the above-mentioned sessions, the Video Training Week participants got a chance to apply their new skills in practice and record a video in Mini Studio during the Video Recording Day. Some pilots came to shoot a video that they will use in the course, some a marketing video for their course while others just came to practice. Language teachers used a light board while others opted for a white background.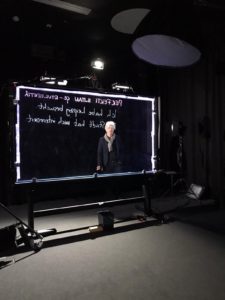 For the majority of people, it was the first time in front of the camera – how exciting! Many participants also commented that it was very useful to take part in the workshops before the shooting day so they actually knew how to write a script and prepare for being in front of the camera.
"I liked detailed and spot on comments from Paul! They helped me a lot to prepare my video presentation."
The Video Recording Day was organized in collaboration with Aalto Studios who took care of shooting and editing so participants didn't need to think about anything else but their own presentation. Aalto Studios also sent ready edited videos to all who participated afterwards.
Next batch of the Video Training Week will take place on 2–4 June. Read more here!
Written by Yulia Guseva
Online course producer
Aalto Online Learning Video Production Theme Leader