Guest post by Victoria Lindqvist
Together with Jouni Paltakari, pilot leaders of "Master's thesis Assistant for Bio2"
It's no doubt that year 2020 with its pandemic crisis has brought drastic changes to many aspects of our lives and pushed us to adjust to a new reality, no matter if we are ready or not. Significant impacts that year 2020 brings to education come in regard to e-learning, digital learning environments and distance education. Those concepts are not trends anymore, but they are part of our lives, right here and now.
Let's take a step back and look at spring 2019 when the importance of digital learning environments was not so obvious.
Idea or what if?
Spring 2019
The final version of my Master's thesis work is converted to PDF format, uploaded, and submitted for evaluation. Now I can close all open windows on my computer: multiple webpages with scientific articles, eAge page, several pages with guidelines for scientific writing, MyCourses, Turnitin, pages with emails…. Now I can sit back and wait for the graduation ceremony. But wait! A persistent thought runs through my head:
"What if Master's thesis could be done in a smarter and more convenient way for future Master's thesis workers / students?"
The Master's thesis project is one of the most important components of Master's studies. Many students are under pressure during the whole Master's thesis project, as they have a lot of on their plates: actual work on their research project, writing and experiments, maybe adaptation to a new workplace, Aalto University's requirements related to Master's thesis work, presentation of performed research.
Unlike many Master's level courses, Master's thesis project is an individual work down to the ground – students perform research, write manuscripts, present results of the research all by themselves. It is also one of the most long-term projects students have during their Master's studies. What we should also keep in mind is that students in some Aalto schools have the freedom to choose the time to start their own Master's thesis.
Many students manage to complete their Master's thesis work successfully, however, even they feel confusion, frustrated, with periods of ups and down. The psychological aspect is an important part of the education process and plays a significant role in Master's thesis work. Can we make the whole Master's thesis process so that students experience more psychological comfort and stay more engaged even doing their Master's thesis projects outside of Aalto?
What if…
instructions were presented in a "readable" form, as a

user-friendly

(better to say, student-friendly) alternative to the Master's thesis guidelines with lengthy sections of text which are hard for skimming and scanning?
students doing Master's thesis projects have an opportunity to be aware about necessary steps and can follow necessary actions – step-by-step 

– by themselves

?
there was a place with all the sources, guidelines, links and Aalto resources related to Master's thesis project, and students can easily find everything related to master's thesis procedures –

all in one place

?
The idea to deliver existing information related to Master's thesis project in a user- friendly way brought me to Aalto Online Learning, and thanks to fruitful discussions and great support from Tomi Kauppinen and Jouni Paltakari's sides, the idea turned into the pilot project Master's thesis Assistant for Bio2.
Thank you for supporting the idea and helping to turn the idea into the pilot, Tomi Kauppinen!
I really appreciate your wise guidance and thoughts on the pilot project and our insightful conversations, Jouni Paltakari!
   Designing the pilot
September 2019 – March 2020
Many questions appear when working on designing a self-study course. In this post, I briefly summarize my experience on designing a digital course from scratch.
Digital course: Whom are we doing it for, why, and what do our users need?
1. Starting to design an e-course space: ask and listen
Designing the pilot, we kept in mind that the learning space (digital self-study course) and material presentation should be in a "student-friendly" form. Therefore, in the early stage of the pilot concept development, we asked students doing their Master's theses and recent graduates about their experiences. We asked what information, in their opinion, is important at every stage of the Master's thesis and how students look for the information.
We talked with supervisors, advisors, Student Services and Learning Services and listened to their opinions about Master's thesis works.
The pilot has turned out so much better because of their insights and ideas; some MyCourses activities and materials presented in the pilot are results of those conversations.
A huge thank you to everyone who participated in those discussions. Thank you for your time, valuable ideas, and insights!
Which platform to choose for building the digital course? Who manages the course once it is ready?
2. Proper platform choice for the e-learning space
In our case, MyCourses was an obvious choice. MyCourses is a familiar environment for Aalto students. This online learning platform has plenty of tools (activities) to present materials in different ways (Assignments, Chat, Feedback, Forum, H5P, Lesson, Quiz, Turnitin, etc). Although many educators use the same activities again and again, MyCourses provides excellent possibilities to build different interactive tasks engaging students in the learning process.
Another important question for our pilot was "Who manages the course space once it is ready?" Typically, a course is created by its future main "owner" (let's say, a lecturer creates a MyCourses space for their own course and manages the space later by themselves). However, for our pilot the situation was different – we created the course space, but the future "owner", person who updates and maintains the space, is not the same person who created it. We assumed that the responsibility to maintain the course space may belong to Student Services. This brought an additional challenge, as detailed instructions about the course space management should be provided (how to make changes to activities, how to update text, and so on).
Should I be a pro to build an e-learning space? No, there is always help available.
Aalto provides great support for those who create courses in MyCourses. For example, the MyCourses for teachers material was very useful in the beginning. With more tricky questions, it's better to address MyCourses support team.
A big thank you for your great support and help, Outi Rautakoura, Minna Vänskä and the MyCourses support team!
How to organize all the materials and activities in the MyCourses space?
3. Structuring the digital course
Considering all the materials we wanted to present in MyCourses, based on the opinions of students and testing different options, the structure of the pilot became clearer. The MyCourses sections reflect the structure of the whole Master's thesis project, which was split into 3 stages, with an additional pre-phase and a phase after the Master's thesis completion.
What do students see first on the main page of our digital course?
Main page
Designing the main page of the e-course, it was important to keep in mind that it has limited space on someone's laptop screen and it's not convenient to scroll the page for too long. So, for the main page few essential were chosen after numerous trials.
At the beginning of the digital course, a little intro (or roadmap) is given to students to explain exactly what they're going to learn and how. This helps to make the structure more intuitive.
✓ Information for users about the course (last update, contact information, etc.).
Thanks to students' comments, we found out that for them it is important to know that MyCourses space is updated and not "old-abandoned-course-nobody-uses" and the information in it is reliable.
✓ Instructions (roadmap for the whole e-course) or how to use materials.
In our case this information was extremely important as we were creating a self-study digital course and there is nobody to explain how to use the space (unlike typical courses when there is a lecturer to explain).
✓ General flowchart of Master's thesis project.
Students appreciate to understand what to expect during Master's thesis project by looking at the figure below.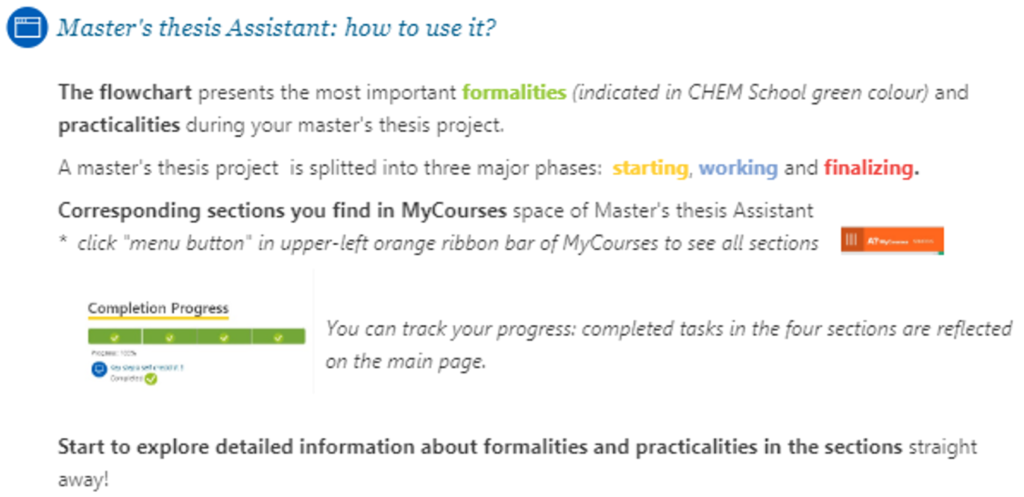 ✓ Progress bar reflecting student's progress (in case a student decides to track his/her progress and completed tasks).
There is a task in each section which is reflected in the completion progress bar allowing students to track their own progress during their long-term project.

✓ FAQ
We placed a collection of most frequently asked questions and answers to them on the main page of the digital course.
Sections
The MyCourses course space consists of 6 sections, in a logical order and sequence, in agreement with the structure of Master's thesis project in the flowchart and instructions on the main page of the pilot.
The sections are:
Before starting your Master's thesis;
Starting the Master's thesis;
Working on your Master's thesis;
Finalizing your Master's thesis;
After the Master's thesis project: feedback;
Materials for Students.
Four key sections (before, starting, working on and finalizing) contain information and assignments which are reflected in the Progress bar on the main page and give students the possibility to see their own progress. The pilot aimed to create a well-structured course space that helps students to grasp the main stages of Master's thesis project and make it possible to quickly navigate through the materials.
How to present all the materials and information?
4. Represent the information
Once the number of sections for the pilot was defined, the next step in the pilot designing was to break down the materials into sections and present them in the right way (remembering about student-friendliness).
The starting point for our pilot was the official Aalto guidelines which were in pdf format, and additional or "extra" materials (information about participants of a Master's thesis project, interviews with students, supervisors and advisors; examples of previous Master's thesis works written by student of the department and received excellent grades).
Information visualization
When it was possible, the content was presented visually, like this flowchart (see figure below). Students can easily "read" from this flowchart all the necessary steps during their Master's thesis project. Several different flowcharts were presented to few students for evaluation, and the "winner" version can be found in our pilot.
Color theme
The color theme was chosen for the three main stages of the Master's thesis project. The colors yellow for the Master's thesis start, blue for the stage working on Master's thesis, and red color for project finalization were used in the instructions on the main page and in the flowchart. A color theme helps students as they move through the course and it makes learning process more intuitive.
Clarity in delivering information
Misunderstandings happen always and everywhere. The pilot aimed to avoid confusion and present the guidelines as clear as possible. That is why the text was written in a simple manner to avoid ambiguity; the most important issues were repeated and linked.
How to keep students engaged?
Links
Links between sections and materials help students to go at their own pace and in their own way. The text with links looks more appealing for online reading: numerous links in the text and activities make it possible to repeat information in a friendly manner and ensure that students will not miss important information.
Interactive tasks
In the pilot, the Moodle activity Lesson is used to present information and for self-checking. The Lesson activity module gives the possibility to present content in interesting and flexible ways: it offers a variety of paths or options for the learner. As the activity is seldom used and requires advanced planning, I had to study how to make the Lesson work by trial and error for our pilot.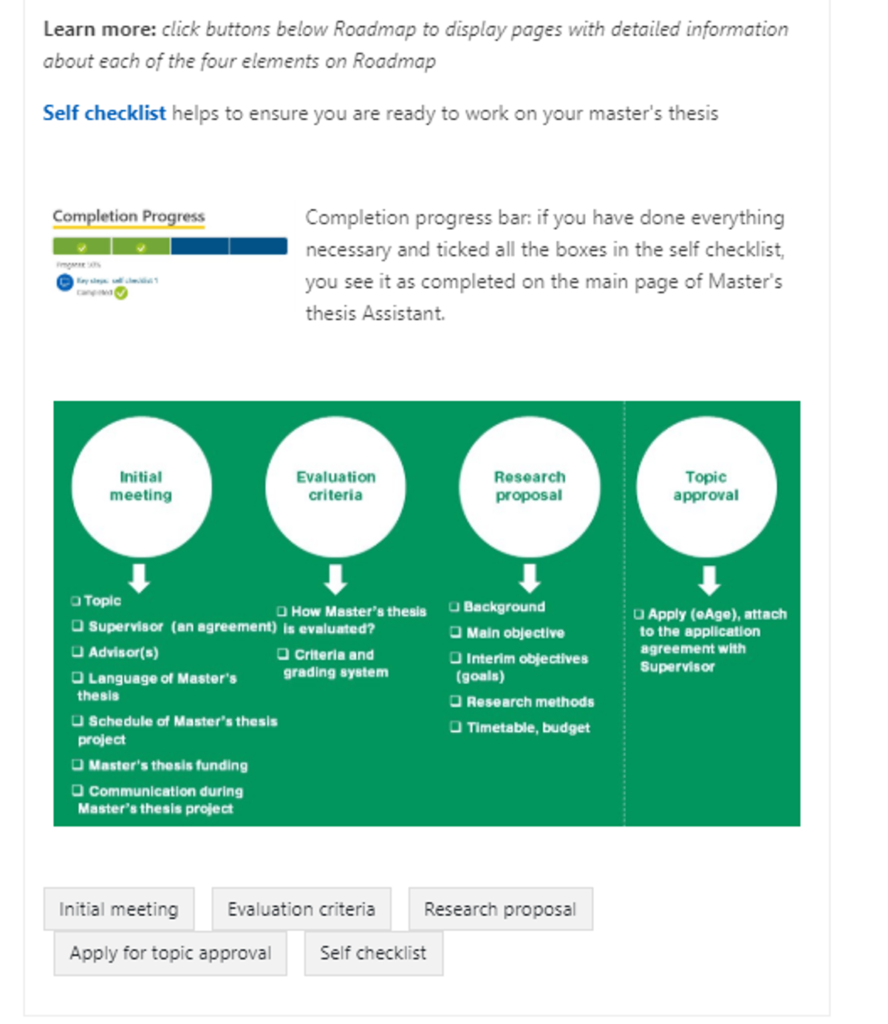 Thank you, Costa Luis, for testing and giving valuable comments!
Real-life examples
Thanks to the discussions with students, few issues were detected that needed to be explained more than it was described in the guidelines. That is why real-life examples were used in the pilot. Activity H5P integrated in MyCourses was used for this purpose. The material "Who is who" explains the roles of Master's thesis participants (students, supervisors, advisors) and includes interviews with them. This material is presented in digital magazine form which is easy to navigate and read page by page.
Big thank you to our interviewees!
5. Testing the pilot
The last phase of the pilot designing reminds of the first phase: the main idea is to ask and listen to the users. A few students doing their Master's thesis projects tested the pilot and gave their feedback. Thanks to their comments, the pilot was improved and some minor mistakes were corrected.
The workshop session at Learning@Aalto Gala 2019 "What to do with all the course feedback I have received?" (by Anni Rytkönen & Kirsti Keltikangas) was very useful for this stage.

   I found the following books helpful while designing the pilot:
I hope you find the story inspiring!
Do you have any comment, question, or suggestion? Contact me through Email or LinkedIn. The pilot can be found in MyCourses through this link. (Please login with Aalto account and enroll as a student to see the pilot materials.)  

This article is licensed under a Creative Commons Attribution-NonCommercial-ShareAlike 4.0 International License.
Author Victoria Lindqvist, 4.6.2020