December 20th, 2017
We will organise the Learning@Aalto Gala on December 20th, 2017 as a joint effort by strategic initiatives* on learning, from Aalto People to Aalto People.
See you in the Learning Centre on December 20th, 2017!
For whom: Aalto People
Why: Celebrating learning, seeing & feeling great result of 2017 (online learning, virtual & augmented reality, wellbeing, work life, program attractiveness…), networking with other Aalto People interested in educational innovations
What: Workshops to learn new methods & tools & pilot deliverables, networking, gala to see demos, experimenting in teacher's corner, surprises, live music, enjoying life!
When: December 20th, 2017, from 9:00 to 16:00
Signup: The registration to the Learning@Aalto Gala is now closed. For inquiries, CANCELLATIONS and standby places, please contact mary-ann.wikstrom@aalto.fi
Web: http://www.aalto.fi/en/current/events/learning_gala/
Program:
Pre-Gala – Morning for workshops!
8:15 Early Bird breakfast & networking
9:00 Welcome & morning mindfulness
9:20 Keynote: Luiz Fernando Medeiros (Student Ambassador)
9:30 What's in it for you? Pitches by workshop leaders
10:00 – 12:00 Workshops
Poster session: Research on teaching and learning at Aalto
Virtual reality workshop
Future of education workshop / working life capabilities
Workshop on video presentation skills (
Designing the student journey
Student ambassador workshop
AllWell? -questionnaire 2017 & 2018
Creating Les(s) Stress: Tips for meeting troubled students
FabLab Workshop
EXAM: the electronic exam room at 2nd floor 
Learning@Aalto Gala – Afternoon for celebration!
Noon: Grab & Enjoy – Express Lunch
13:00 Learning@Aalto Gala opening: Provost Kristiina Mäkelä and Vice President (Education) Eero Eloranta
13:30 Minute Madness: pitches by demoers (pilots, development projects)
13:50 – 15:10 Demos of pilots, development projects
14:00 – 15:00 Teacher's corner
15:10 – 16:00 Celebration!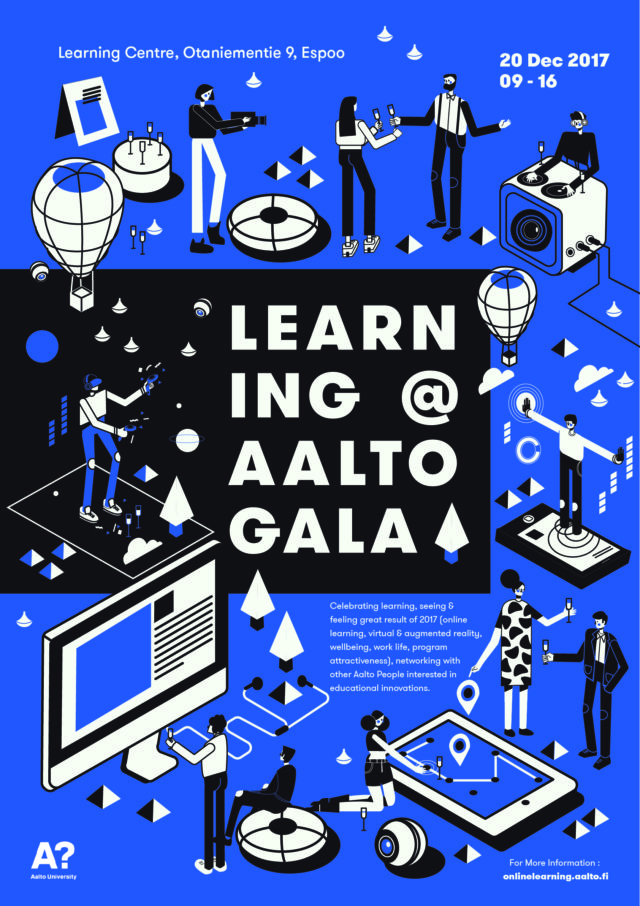 * Welcome on behalf of the organizers and four strategic initiatives on learning:
Aalto Online Learning (A!Ole) Our goal is to develop, explore and evaluate novel advanced technical solutions and pedagogical models for online/blended learning
All Well? Wellbeing project Our goal is to enhance the success of students by advancing study support, teaching, learning services and focusing support on study capabilities.
Programme Attractiveness  Our goal is to create and develop concrete tools that help the programmes to monitor their performance, evaluate their content and to enhance their quality. We also aim to learn what makes programmes attractive and show the programmes how they can collaborate and share best practices in order to become and stay attractive.
Learning Challenge Aalto Our goal is to inspire, equip and support students on their way towards working life. Tomorrow's game changers are those who create value to companies and communities.