Many Aalto Online Learning pilots are creating videos for their courses. To address video production needs, Aalto Online Learning in collaboration with Aalto Studios organizes Monthly Studio Days. Pilots can book a time slot and come to shoot videos for their projects.
In this blog post, we will introduce the Studio Day concept. You will also receive tips on how to prepare for the video shooting. Let's take a look behind the scenes! 
What to expect
The shooting takes place in Mini Studio, Learning Center. You can choose between white, black, or green screen backgrounds for your videos. 
A green screen background allows you to replace it with an image, slide, or even video footage in post-production. 

If it is a talking head video, a videographer can use tighter and wider shots.

For an interview-style video, there is also a possibility to film from different camera angles. 

If you plan to make notes, calculations, or illustrations while maintaining a connection to your audience, a

light board

might be a tool for you. 

In post-production it is possible to add slides, overlay text, or other visual elements to your videos. You can alternate between them to make your video more dynamic. 
To see what videos have been produced in Aalto Online Learning and get a better understanding of what is more suitable for your needs, check out this blog post. 
Aalto Studios takes care of shooting and editing so you don't need to make any arrangements for your video production. Instead you can focus on getting ready for presenting on camera. 
How to prepare
Practice shows that content creation is the most time-consuming part of the video production process. People tend to underestimate how much time they need to work on a script. Writing a script is a creative process that usually requires a few rounds of iterations. So, make sure to allocate enough time for this. 
Before coming to the studio, we highly recommend you to practice.
As simple as it is, there is no substitute for practice. You can practice in front of the mirror or you can record yourself, i.e. with Panopto. It will allow you to also pay attention to the body language. 
If you are using a teleprompter, reading your script out loud a few times beforehand will help you sound more natural and prevent you from stumbling on certain words or phrases in front of the camera. You will usually fine-tune your script when reading it out loud. 
One important aspect is also mental preparation. Being in front of the camera can be very nerve-wracking and a new situation overall, and this is perfectly normal! We all get nervous at times, so don't worry or stress about it. Take a couple of deep breaths, roll your shoulders, and remember that the film crew is there to help you!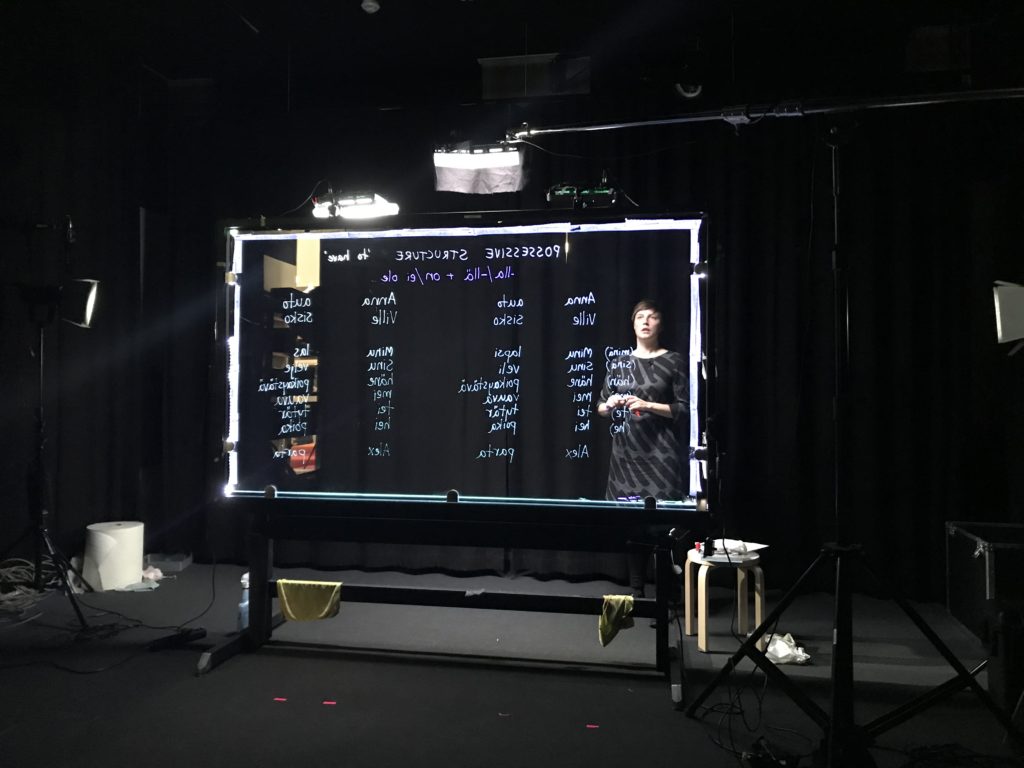 Tips from Monthly Studio Days participants
"Keep the message simple and a video short. […] Remember to smile. It is useful to watch the videos your colleagues have done and get some hints from them. Start making a video on the topic that you know well yourself."
"Prepare your script well and practice it a lot beforehand so you don't need to concentrate on the sayings, but you can concentrate to be relaxed."
"Write a good script, take it easy"
Clothes considerations
Clothing might seem like a small thing, but it really makes a big difference on the video! Here are our thoughts about what to wear, and what to avoid. When in doubt, you can always ask us beforehand.
It is recommended not to wear clothes with visible logos, small patterns or stripes. These will lead to a wavy pattern in a video called a moiré effect, which is not easy for the eyes.


You should also avoid wearing pure white or black. These colors will make it difficult for the camera to balance the exposure, and it will affect how your skin tone looks.

If you are shooting a green screen video, don't wear green. The green will be removed in post-production so if you are wearing any green anywhere in your clothes, those parts will be removed as well.

Blue, purple, pastel colors are usually good choices.

Studio lights are bright, so make sure the clothes are not too see-through.

You can also bring an extra outfit just in case and we can see what looks best on camera!

Most importantly, wear clothes that make you feel confident. These tips are not strict guidelines – only recommendations!
One final thing to keep in mind is a microphone placement. You will need to put the transmitter for a wireless mic somewhere in your clothes. Usually you just clip it to a waistband or pocket. If you are, for example, wearing a one-piece dress, a microphone placement can be more challenging.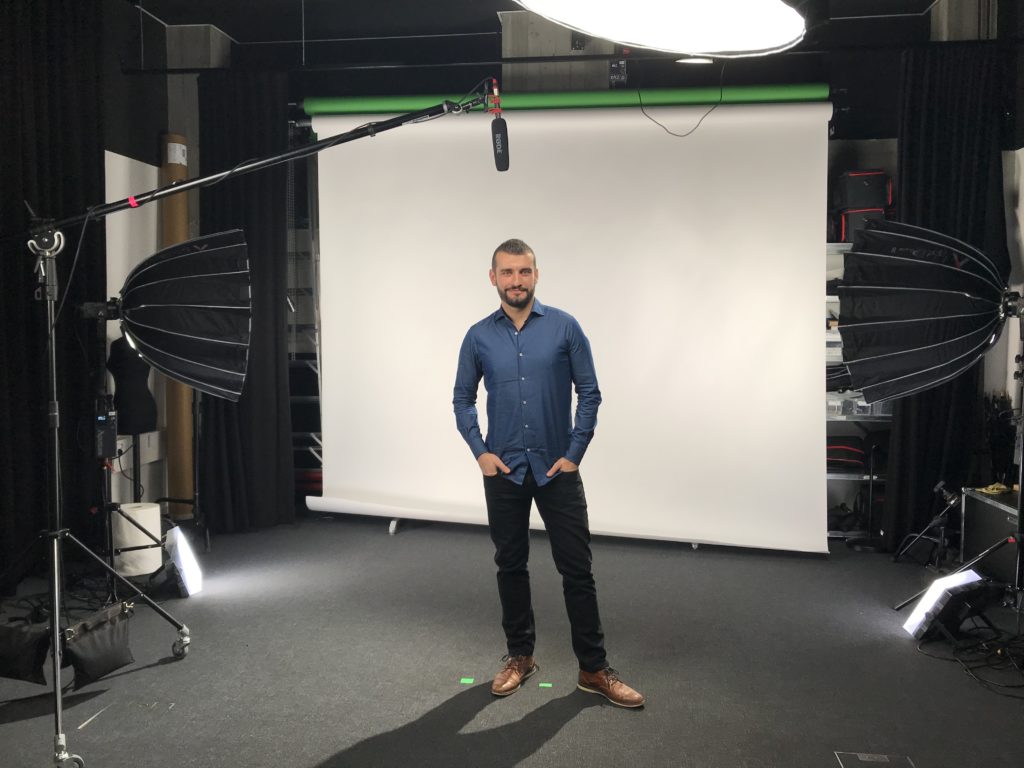 ---
You can always attend our weekly Video Production Clinic prior to the Monthly Studio Day where we can discuss your plans and you can ask any questions you might have. 
To get an overview of the whole video production process and to know what it takes to make an educational video, check out this video. 
Please note, to participate in Monthly Studio Days, we require you to attend workshops during the Video Training Week that are designed to equip you with the necessary skills for successful video production. 
Author Yulia Guseva, online course producer, Aalto Online Learning video production theme leader